West Wales Chess League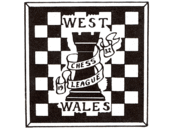 West Wales Chess League
For Chess Clubs in Neath Port Talbot, Swansea, Llanelli and surrounding districts
News Report
Competition Results
17/10/19
Congress
The West Wales Congress was held last weekend (11th - 13th October) at the Mercure Hotel in Llansamlet. It was well attended and the headline results were as follows:
West Wales Open
1st: Daniel Kozusek 4.5/5; =2nd: Grzegorz Toczek, Ian D Thompson 4/5; 33 players competed.
West Wales Major
=1st: David Pinch, Philip Pe 4/5; 20 players competed.
West Wales Minor
1st Alex Lawrence 4.5/5; 2nd Paul G Bevan 4/5; 9 players competed.
Full results are available for download in our documents section West Wales Congress 2019- Results
West Wales Individual Championship

The first round of the West Wales Individual Championship (E.J. Clarke) took place at the Upper Killay Chess Club on Wednesday 16th October. There are 23 entrants and as seems to be the tradition the majority were from the Morriston club. The first round results are as follows
Daniel Chung 0 v 1 Ian Jones
Peter Bevan 1 v 0 Tony Goodchild
Greg Goold 0 v 1 Moss McCarthy
Phillip Pe 1 v 0 Paul Bevan
Janet Evans 0 v 1 Duncan Williams
Andrew Smith 1 v 0 Leighton Anthony
John Davies 0 v 1 Neil Stuart
Ralph Cook 1 v 0 Andrew Powell
Dennis Thomas 0 v 1 Joel Chung
Albert Easton 1 v 0 Joe Spooner
June Evans bye
The game between Steve Lockley and Steve Edwards had to be postponed.
The next round was due to be played on Tuesday the 29th October but this has had to be cancelled as the venue is unavailable. The competition will, therefore, move on to what is down as round 3. This is scheduled for Monday 2nd December at the Morriston Chess Club.

Follow the site to get the latest news and results straight to your email